Welcome Abbey Road Homeowners

---
Emerald Heights Proposal to Construct Two New Buildings in Greenbelt Buffer
Conditional Use Permit LAND-2018-00586 & Site Plan Entitlement LAND-2018-00617
Emerald Heights is proposing to construct two new buildings on its retirement complex. Unlike previous expansion projects that took place behind the existing green belt buffer along 176th AVE NE unnoticed by Abbey Road homeowners, these new buildings are proposed to be built in the very buffers that have provided compatibility between Emerald Heights' massive retirement complex and our single-family homes.
While we are not opposed to expansion of Emerald Heights, we are opposed to where they are proposing to expand. The buffers and setbacks along 176th Ave NE were put in place 30 years ago to ensure that Emerald Heights' complex and Abbey Road could peacefully coexist together in a residential neighborhood. When Emerald Heights sought the 2010 rezone that made this expansion possible, Abbey Road did not oppose the land use action because Emerald Heights promised to preserve the green belt buffers and views for neighboring properties.
Emerald Heights demonstrated in their 2010 rezone proposal that they have other viable locations to construct these buildings on their complex. We are asking the City of Redmond Hearing Examiner to hold Emerald Heights to their commitments and to enforce City of Redmond code regulating retirement residences.
As depicted in this Emerald Heights 2010 Conceptual plan, our goal is to keep the view of all institutional buildings in the distance, set back behind the substantial greenbelt buffer that exists today.
<![if !vml]>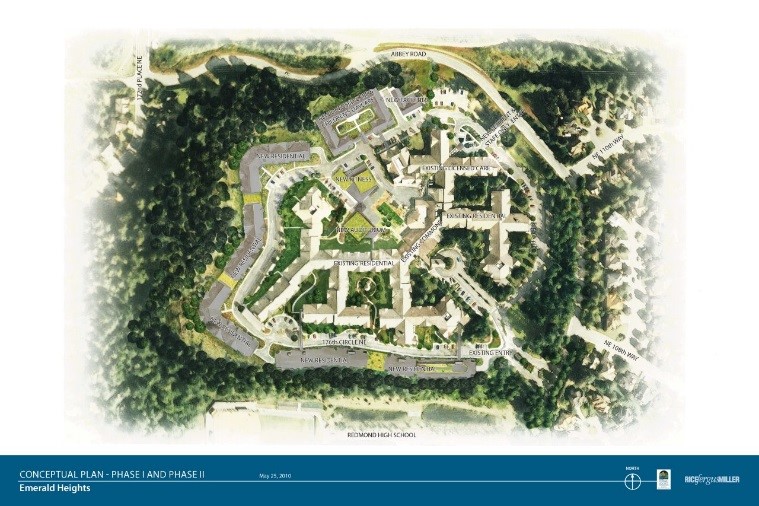 <![endif]>
How to support your Abbey Road neighbors
· Attend the January 7th and 14th public hearings from 6:00pm–10:00pm at the Marriott Hotel at Redmond Town Center in the Grand Ballroom, 7401 164th Ave NE, Redmond WA.
· Speak at the public hearings and share your thoughts on how the proposed project will affect you.
· Submit a written statement to the Hearing Examiner. Reference the permit numbers listed above. If mailed, your letter must arrive before January 14th. Please send a copy of your written comments to Neil Barnett, HOA President at neilbarnett62@hotmail.com or mail them to the HOA address located at the bottom of the page.
Office of the Hearing Examiner
PO BOX 97010
M/S: 3NFN
Redmond, WA 98073
·

Contact Neil Barnett, HOA President, text 425-894-8761, or email neilbarnett62@hotmail.com for more information and ideas on how you can support the neighborhood.

More Information on this project

Project information submitted by Emerald Heights for permits
City of Redmond Land Use Action Notices in the Education Hill Neighborhood
http://www.redmond.gov/cms/One.aspx?portalId=169&pageId=222769

Project information submitted to the City of Redmond Design Review Board
City of Redmond Design Review Board – September 6, 2018 Meeting Agenda
http://www.redmond.gov/cms/One.aspx?portalId=169&pageId=239607#

Hearing Examiner Information – Emerald Heights Public Hearings January 7th & 14th, 2019
City of Redmond – 2019 Hearing Examiner Schedule and Information
http://www.redmond.gov/cms/One.aspx?portalId=169&pageId=244429

City Council Meeting, July 19, 2011 – Video of Emerald Heights Testimony "well screened and that will continue"
https://www.youtube.com/watch?v=4-XlHNUlGEc
---